We partner with you to help you build the individual competencies and organizational capabilities you need to succeed at must-win projects and become an agile, change-ready organization.
Research-Based Methodology
Focus on Results
Easy-to-Use Models and Tools
Commitment to Transferring Knowledge
Holistic Training and Tools

01
Globally accepted
& recognized
02
Build skills &
credentials
Learn
Understand the fundamentals of change and Change management
Walk-away with a ready-to-execute change management plan
Apply
Understand Role and Responsibility of Change Manager and leverage the Change Manager role in delivering successful project
PROSCI
inhouse role
based trainings
Strategic Alignment
Workshop
The Strategic Alignment
Workshop is a facilitated
event at your organization..,
Delivering Project Results
Program
Delivering Project Results
is the 1 day change management
program for project..,
Program for
Managers
Prosci Change Management
Manager program is the 1 day
change management program..,


Feb-Apr 2019


contact us for our 2019 calendar...
Enabling experiential learning through our trainings and workshops.

Great Facilitators, Great Structure, Excellent Coordination, Amazing learning
Manager - Organizational Development Practice,
Allstate Solutions Pvt Ltd

Greatest strength of the programs are the facilitators , their patience , depth of knowledge and attention
IS&T Professional,
Rio Tinto

Makes complex concepts simple through stories, cases
Regional Lead - UCC Consulting & Product Engineering,
West Communications

Knowledge
The big value add to me in the change management space. Training delivery, coordination , almost everything were highlights

- Business Transformation Consultant, L&T Infotech

Ideation
"Fabulous model,very informative, very hands on

-HR Manager, GSK Consumer Healthcare

Inspiration
The program was a great learning experience with sufficient emphasis on real life examples and attendee participation

- Senior Consultant, L&T Infotech

Gratification
"Great Packaging . Thumbs up to oratory skill of facilitators

- Manager Consulting, Capgemini

Collaboration
Great content specifically market research data ,very informative , great workԼ

- Senior Project Manager at Pythian

Self assessment
"Very well structured, interesting ways to imbibe concepts .Ability to make the content /framework relatable to projects was a big plus

- Associate Business Consultant, Tech Mahindra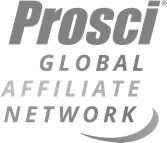 Designated as a primary affiliate for the market of India as a part of the global network affiliate for Prosci, we offer Prosci Change Management training program as an open enrolment, public forum as well as client specific formats for corporates (HODs, managers, projects, employees at large). We are also authorised to provide Prosci based advisory services to clients.